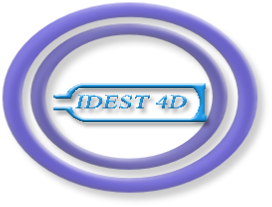 Visual Eddy Machine.
Used to inspect the neck region of the cylinder of an aluminium cylinder.
The same technology as used in the aviation industry to test aircraft and space craft parts.
Visual Eddy uses electrical current to detect small cracks and imperfections in the metal.
Visual eddy can detect flaws that could be missed by a normal inspection.
These flaws can lead to leaking or even cylinder rupture.
We use Visual eddy to ensure your safety.
Generally used on aluminium cylinders made between 1958 through 1995.Hol 2, 3 and prefix A or B.
(AA6062 Doesn't Need Eddy Testing)
Ultrasound thickness detector.
Ultrasonic thickness gauges are the optimum tool for finding the remaining wall thickness of aluminium and steel cylinders.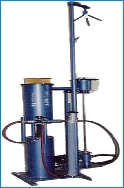 Shot Blasting.
This is used to remove any rust that has been found on an internal inspection of a cylinder. We do not shot blast the outside of a cylinder.
If the cylinder needs shot blasting after the cylinder has failed on a visual test then a hydrostatic test is then required..



Tools
High Quality spanners, hex wrenches, screwdrivers etc.
Torque wrenches
All have calibration certificates ( every 12 months)
Specialist tools
Special regulator and cylinder tools usually made by the manufacturers ie service tools.

Gauges
British standard test gauges ,Certified & Calibrated every 12 months. ie Go-No-Go thread testing gauge
Ultrasonic baths
High Power large capacity 6.5 litres
We use three separate baths one for Degrease, wash and one for rinse.
All are heated.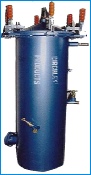 Pressure testing "pot" with hoist
Here is where the cylinders are pressure tested,
from 2 litre to 20 litres.
With the various adaptors for the different cylinder neck threads
With a hoist for safety .
( they do seem to get heavier the more you test)
Set up bench and Magnahelic gauge.
This is where the regulators are tested before they are serviced to get a picture of how they perform and to help identify the cause of any problems.
And are set up after servicing to the manufacturers settings.
It has an interstage pressure gauge that is connected directly to the 1st stage being tested.
The magnahelic gauge measures the crack resistance or breathing resistance of the 2nd stage.
The 1st stage is tested at 232 bar high pressure and 20 bar to check the operational range of the regulators.
Paint thickness tester.
Does exactly that.

Corri Pit Probe.
Special tool used for cylinder testing